Area & Oriental Rugs
Over 5000 area rugs in stock - All sizes, designs, and colors.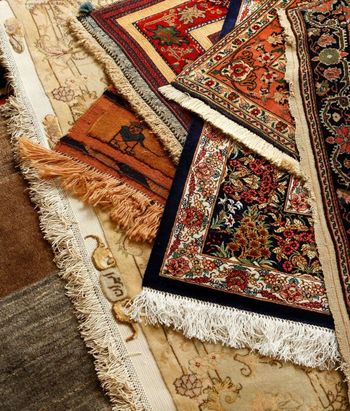 If you are looking for rugs in Dallas, then there is only one place you will need to go. RuglandDallas.com is the top rug store in Dallas. We have beautiful rugs available at our store. We have a large stock that can cater to your every need. We have rugs for the living room, dining room, and family room. Our purpose is to make your house look wonderful with these artistic rugs. Our rugs are made with authentic, high-quality materials and are well worth your money. So, contact us today to get the best deals and finest rugs.

Find the Right Rug for You

Often times, people are a little nervous about picking out the right rug or rugs for their home. Rugs are not an every day purchase and most people worry about working with pattern, colors and getting the right size. At Rugland, we make it easy and relaxing because we have years of design experience and will guide you towards the perfect rug that meets all of your needs. Here are some great tips to help get you started with the rug selection process.

What size do you need?

Life will be much easier if you have a size range that will work for your
space. If you come with an exact size, there may be only one or two
rugs to choose from, whereas when you have a size range, there will be many more options. There are a couple of basic guidelines to follow when sizing your rug depending upon where it will be used.


Bedroom Rugs: Should you go with a large rug underneath the bed, or smaller scatter rugs around the bed? The reality is that either approach can have spectacular results. Keep in mind a couple of things and you'll know which solution will be best for you. If your bed is on legs and raised off the floor so that your eye can see under the edges of the bed, use a large rug that the bed can sit on. You will want a rug large enough to allow at least 2 feet of the rug on either side of the bed. This provides an anchor for the bed in the room as well as visual continuity and creates a really luxurious feeling in the space. Usually an 8x11 or 9x12 will do the trick. If your bed has a dust ruffle that goes to the floor, you can use either a large rug under the bed, or smaller scatter rugs around the bed. Usually, if small rugs are used around the bed, 3x5 sizes work, though in some instances, a runner may be better for either side of the bed.

Living Area Rugs: The most common thing that happens when selecting a rug for a living area is not getting one that is large enough. If furniture is floating in the room as opposed to being up against a wall, you will need a rug large enough to pull at least the first third of your furniture onto the rug, typically 8x11 or 9x12, but sometimes, larger sizes are needed. Remember, you are creating a "room within a room" with your rug and a postage stamp will not anchor the furniture. If your furniture is skirted, you can get away with having the rug go up to the edge of the furniture. Since the skirt brings the body of the furniture to the edge of the rug, you get the visual continuity and flow that creates a relaxing, warm environment. This approach usually works well with furniture that is against a wall, or in smaller rooms. However, just because your furniture is
skirted, does not mean that you cannot pull the furniture onto the rug. Generally, a rug should be longer that the sofa, even if just by a couple of inches, because the rug is anchoring the space and must have enough visual weight to counterbalance the other furniture.

Dining Room Rugs: Probably the simplest area to size for is the dining room. Just take your table dimensions and add 4' to the width and 4' to the length. You need a minimum of two feet on each side of the table for the chairs to sit on when pulled out. If your room will accomodate a larger rug, there is certainly no reason that you could not go a little larger. Now, sometimes breakfast areas are a little tight on space and will not accomodate a rug that is a full two feet around the table. No worries though, because it's easy to juggle the rug size so that it's not lost under the table, yet still fits the space available.

Whenever in doubt, it will be eye opening if you create a template (use sheets, newpapers etc.) and physically cover up the floor. Once the area that a rug will occupy is covered up by your template, the visualization process is easier and suddenly the correct size is often crystal clear.

Color and Pattern

Keep a few basic ideas in mind and suddenly, the rug selection process becomes easy. Remember the big picture of where the rug is going to be. It is easy to overanalyze pattern and color in a store, but in the reality of your home, you are not looking at a rug alone in a bare room. The rug is just one piece of many that make up your room and because of that, there is no reason for every color in the rug to be an exact match to other colors in the room. All you need are colors that are in the same family and flow together. Don't eliminate the rug just because it has a color or two that are not used elsewhere in the room. Think about it as you would a painting on the wall. Pick out one or two colors that will help unify your room and make sure they are in the rug and everything else will flow together.

Many times, people worry about mixing patterns. Two simple things will keep pattern mixing manageble: keep the scales of the patterns different i.e. big scale print on the sofa, use a smaller scale design in the rug or vice versa and pick one or two
colors to unite the two designs and make sure the other colors flow. Once again, don't get caught up in trying to make everything match exactly.

What kind of fiber should we get?

Let's take a moment to go over a few different fiber characteristics to help make sure you get the performance that you expect out of your rug. Two basic catagories need to be considered: Natural and Synthetic.

The most common natural fiber is wool. Wool is durable, soft, easily dyed and has good cleanability. For these reasons, wool has been used for centuries in floor coverings. Synthetics have the advantage of price and being non-allergenic. The two most common synthetics used in rugs are Nylon and Olefin. Nylon gives wonderful versatility because of its space dye capability, which allows it to better mimic an antique masterpiece. It is an easliy cleaned, extremely durable fiber. Olefin has been moved to the forefront in rug manufacturing due to some huge breakthroughs in fiber technology. It offers exellent durability and stain resistance at a budget friendly price.
---